Tonight's blog is bought to you by one and a half hands! No, I don't have a sponsor, it's the fact that I have the use of 3 fingers on my left and 5 on my right and it's awkward to type. I wish I had an exciting story about how I got injured (wish it was something to do with exercise and how hard I punched the bag or something) but, it's not.
About a month ago, I packed the dishwasher and put the powder in the little door. The little door wouldn't close (as the powder had gotten stuck in the indent where the door normally sits) so, I got a knife (or spoon – can't remember now) and scooped the powder out. I did it with my left hand and the powder ended up flicking up into between my index finger and middle finger. It started to fizz (my hand was a bit wet). I washed it right away but, a rash started to come up. The next day, it was very blistery. Ick. The last few days, it has been really itchy and I've woken up in the middle of the night in agony. I got some antibiotic cream to put on it and I need to continue to take pain killers and clarentyine. Fun :/ there is a photo of this in my 'viewer discretion' section if you'd like to see it. It RRREEEAAALLLYYY hurts! And looks quite yuck. Don't look if you're not good with yucky things.
I didn't end up having my normal session with Michael today. I woke up with a massive head ache and bad asthma. I cancelled it but am going to start seeing him twice a week in the lead up to my stair walk! When I went into the gym tonight, the girls at the desks pointed to a fundraising tin. The tin is to raise money for my stair walk! OMG! I was so excited! I had no idea that it had progressed through the 'powers that be' at Genesis and that they are going to help raise awareness!
After my short (but productive) session at the Gym, I phoned Michael and spoke to him about it. He said that there's going to be something in the next Newsletter about it and he spoke once again about putting some weight in a bag to make it hard for him. Eileen (the receptionist at Genesis) is going to come out and film it (didn't ask if she's coming up all the way or just some) and the funds are going to go to the Cancer Council. Like I said to Michael, there's no backing out now – it's really going to happen! I just have to work out a date and work toward it.
I will be able to achieve it. I know I will. It will be very bloody hard but I know that I'll get there. I haven't yet gone up the stairs at work again since the other day (I keep forgetting my Ventolin and sneakers!). I shall pack my bag by the door tonight so I don't forget them tomorrow. I aim to get to the 15th floor and I'll keep you up to date with how I go.
If you do wish to donate sponsor me on my stair climb, watch this space and I'll let you know how. I am going to contact the Cancer Council tomorrow to let them know what I am doing otherwise, I may end up just using my relay for life page to get the funds to them. Even though it's a different event, it still goes to the same place.
I just realised that I am a tad nervous!
I did some planking on Monday night. I planked on my Cat, my iPhone but, the best shot was of me planking on a ball point pen…
Not a flattering photo but I find planking more amusing when it's done by a fat chic rather than someone of normal size!
Here's a worse photo than that though – it's of my swollen feet. Excuse the dirty thong mark (most of it's a tan mark!). They have gotten so much better over the past 6 months or so. I am nearly at the point where I can wear shoes (well, I'd like to think so!). My left foot looks so much worse than my right foot. It is a mixture of Lymphodema and being overweight. Lymphodema runs in my family and is known to be hereditary. My foot is no where near as painful as what it used to be but it gets hot, is hard to touch and is very sore.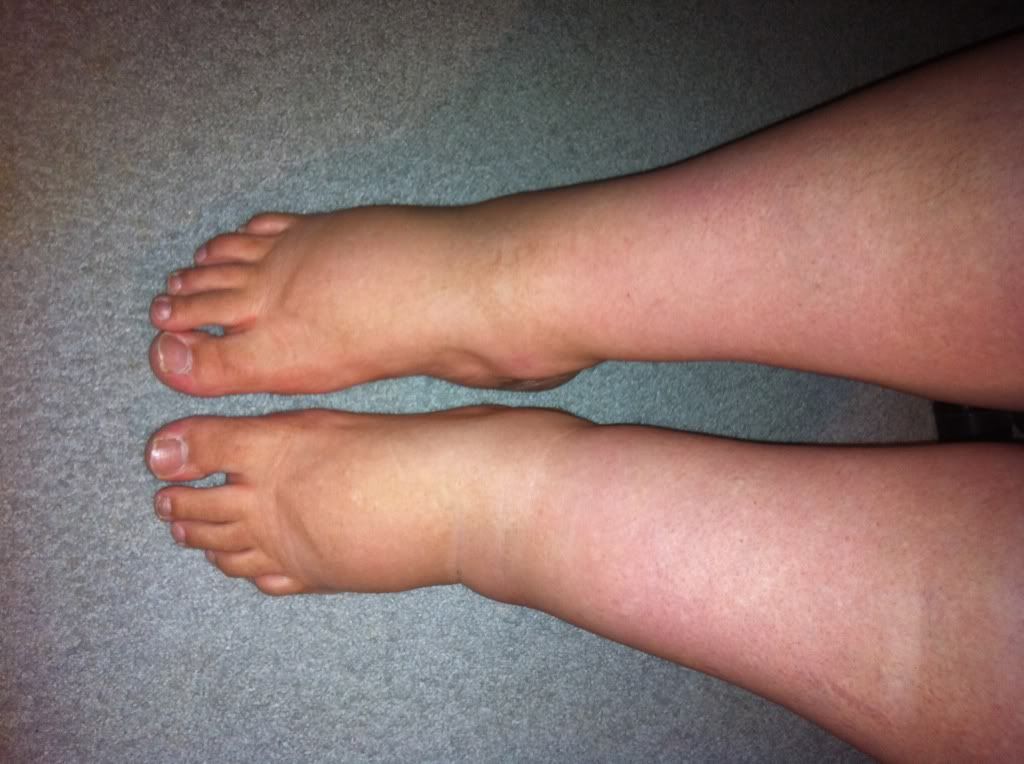 I wanted to mention one of my friends tonight. Her name is Bec. I met her some years ago on the same forum that I met Brad and Brisbane's yummiest Mummy, Tracey. Bec has had a struggle with her weight since I've known her. She's tried many different things. Some of them have worked, some of them haven't but I am so proud of her – she has been doing so well over the past few months. I can't remember how much she has lost (weight wise and cms wise – the Email is at work) but she has done such an amazing job. She has been seeing her personal trainer 3 times a week but has been struggling a bit as her personal trainer is away but I am SO PROUD of her and know she can do it – with or without her PT. I am amazed at her strength and determination. She's a busy girl – she has a gorgeous little man named Sam and also works part time so, time is not on her side when it comes to losing he weight but she is doing an amazing job. Well done, honey xoxo